The past three weeks have been quite bad for the cannabis market. With the effects of the coronavirus taking their toll, it has been almost a month of losses for the entirety of the stock market. The largest companies in the cannabis industry have shed more than 40% of their values in only a short period of time. With that being said, new updates to the governments plan to protect the economy from the coronavirus, helped to bring some bullish gains into the marijuana market during today's trading on March 25th. Some of the leading marijuana stocks such as Tilray (NASDAQ:TLRY), saw gains upwards of 25%. Others reported more modest gains of around 10%.
This comes as good news after March 24th reported the largest single-day point gain for the Dow in almost a century. But, it does not look like we are out of the waters yet. There are still a lot of unknowns surrounding what the next few weeks will look like. Because of this, it is likely that we will continue to see these high levels of volatility infiltrate the cannabis market. For now, however, it's worth taking a look at the big gainers today, to see just why some shot up substantially in value.
Tilray Ends Trading Day 26% Up
Tilray (TLRY Stock Report) is one of the most popular pot stocks in the industry. The company became notable after becoming one of the first cannabis stocks to be listed on a large U.S. exchange. Since that time, it has had trouble growing and producing a profit in its home market of Canada. This is due to a variety of factors including supply worries and a lack of proper legislation. Because of its size, the company is inherently more exposed to market volatility than others. This could be one of the main reasons that it saw such a huge gain during today's trading. In addition to this, many believe that big cannabis could see a boost due to the higher demand for marijuana that we have seen in the past few weeks.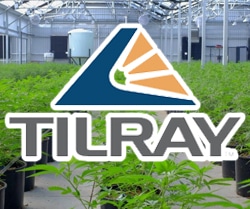 Many states in the U.S. and provinces in Canada have deemed cannabis an essential service. This means that they are allowed to stay open despite quarantine warnings. According to a report, recreational cannabis sales across the major marijuana states shot up by more than 50% in the past week. In San Francisco alone, reports show that marijuana sales shot up by over 150%. This is unparalleled growth and shows the potential of cannabis stocks if they are able to meet the high demand.
Tilray's growth is only one example of massive bullish gains that occurred today. With widespread gains happening around the stock market, it seems as though the public may be getting more comfortable with trading during these uncertain times. As stated before, it is extremely difficult to tell whether or not the end is in sight. For now, it seems as though this volatility may be here to stay for at least a few months. With the coronavirus not yet taking its full toll on the world, it may be best to sit out investing for a little while. But, for those who trade off of short term gains, now might be the time to find some interesting pot stocks to watch.
The post Pot Stocks Have a Day of Bullish Gains  appeared first on Marijuana Stocks | Cannabis Investments and News. Roots of a Budding Industry.™.